GROW GREAT BY DREAMS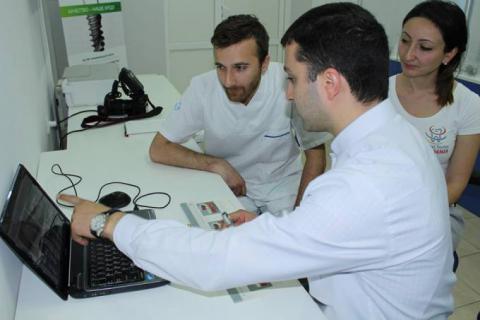 This is the story of Nshteh Manilian, 24 years old Syrian Armenian student whose family fled from Syria four years ago to escape the war. Right now he is a second year student at State Medical College named after M. Heratsi of Dentistry and has interned at "Zarkon Dent" dental laboratory. "From my childhood days I dreamt of becoming a doctor", - Nshteh said. Years past and his dream just stayed a dream. He started learning Law at the State University in Syria. 
Possibly it was a destiny that Nshteh's family has returned to Armenia. Here in Armenia, where everything was new for a young man who tries to create his future starting from the beginning was the only way. "It was really very hard", - Nshteh said frankly.
The support of the refugee community in Armenia, and his family members' efforts to help him were essential to Nshteh's capacity to continue his education in Dentistry. 
Most importantly, he started his preparations for the entrance examination and admission to State Medical College. His studies afforded him some hope, some sense of achievement, or at least a distraction from the conditions in which he was.
Several months ago within the framework of BPRM funded Refugee Empowerment and Livelihood Improvement (RELIP) Project Save the Children Armenia Country Office announced vacancies of paid internship positions open for Syrian-Armenians. 
With no hesitation he applied for this internship, because he knew that it would not only provide an amazing opportunity for him to see how good specialists were working, but also to practice his abilities in dentistry. Save the Children was partnering with several organizations that were supporting this idea. One of them was "White Castle" Dental Medical Clinic. 
"From the first day up till today my relationship with "White Castle" Dental Medical Clinic's Doctors Mr. Davit Hovhannisyan and Naira Hakobyan has been great. They gave me direction and advice and this field since the beginning and have been there whenever I have needed them or had a query. I have to thank gratefully Save the Children for this internship opportunity and the clinic amazing staff who are very helpful when it comes to queries or doubts to do with any matter. This is a unique opportunity to grow my professional capacities", - Nshteh said.