Syrian Woman Who Never Quits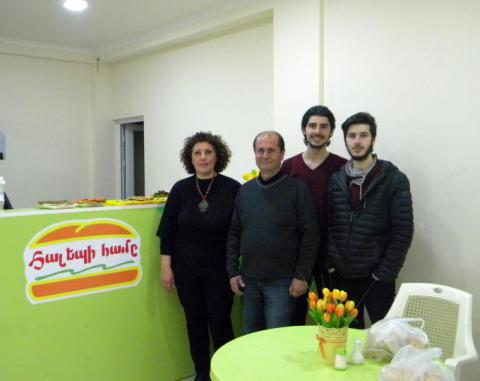 Four years ago, Paradzem, age 44, was forced to flee the war in Syria where she lived for more than 22 years. Parandzem, returned to Armenia as a refugee with her husband and two sons, ages 13 and 16. This relocation has changed the family's lives radically. Notwithstanding integration, social and economic challenges Parandzem's family never gave up.
Parandzem has experience and skills in cooking from Alleppo. So she started working to solve the everyday needs of her family. "At first it was very difficult for us. We knew we were going to start our lives from the very beginning. I used my cooking skills to work, but after some months I got ill" – Parandzem said.
The financial, social and health issues made Parandzem's sons   stay in Armenia very difficult. The different mindset of their peers was also tough to adjust to and made integration seem impossible for the time being. The result of this difficulty was that her younger son refused to go to school, while the elder son wanted to immigrate to another country in pursuit of a better life. "Most importantly, my husband and I sow love towards Armenia to our sons, as we believe this is our homeland. We have had good days, but there are also bad ones too, so we always continue telling our children that we could do our best if we stay together, because our family's force is in our unity", - said Parandzem.
Some months passed and  relations steadily improved from the time they found out about Save the Children Armenia and other organizations which implement different projects for full integration of vulnerable refugees through enhanced livelihoods, protection, and self-reliance.  "Those first months were hard. But slowly, all of us have adjusted," - she added.
The new life has not been easy but she never quit trying. She joined Save the Children Armenia's trainings and other projects and from day one she really impressed her sons with her motivation and enthusiasm. "Everything started going well, and my children started making friends. I couldn't believe how kind everyone was. I couldn't have been accepted more"- she said. Her elder son was so inspired by her mom that he decided to apply for a grant competition initiative offered by Save the Children. He was  working  day  and  night  on  this  project,  and  was  participating  in  trainings  for  developing  his marketable skills. He wanted to win that small grant for his mother's dream of continuing her successful cooking business here in Armenia. His hard work paid off and he won the grant. "After we won the grants my son told me that everything I've got here I deserve. I suppose I'm lucky" - she said  with a smile on her face.
Today, Parandzem's younger son recently graduated from high school and is attending State Song Theatre of Armenia, and with Save the Children's help he participates in Traditional Karate lessons, and is a student of "Ashot Ghazaryan Studio school of Laughter, Humor and Speech".
On March 14, 2016 Save the Children's staff members were happy to participate in Parandzem's family Syrian Cuisine Shop "Taste of Alleppo" opening ceremony in Davitashen district.